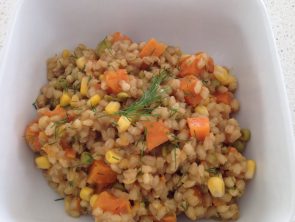 Ingredients
I x Medium Onion (finely diced)
2 x Garlic Cloves (finely diced)
3.5 cups Vegetable Stock
1.5 Cups Pearled Barley
1 x large Sweet Potato, peeled and diced small
1 x 425g can Garden Peas & Corn
1 x small Lemon (Zest & Juice)
Chopped Fresh Dill (to taste)
Salt & Pepper (to taste)
Note:  We don't add that much lemon juice, and we add chopped sundried tomatoes and some avocado at the end.  
A Pilaf generally uses rice, however we have used barley as a nice change.  If you don't like =barley, then simply swap it for rice.
Method
Fry the onion in a large saucepan for 6 minutes.
Add the Garlic and cook for a further 3 minutes.
Add hot Vegetable Stock and the Barley & bring to the boil.
Reduce the heat to a simmer and cook covered for 20 minutes.
Add the Sweet Potato and cook for 15 minutes, or until tender.
Remove from the heat and add the drained tinned peas /corn.
Add the Lemon Zest and Juice (to taste) and stir through.
Add fresh Dill and seasoning (to taste)
I don't add any Salt & Pepper, so taste before adding these spices.